"Reflections" by Linda Marie – Gilded Oils & Encaustic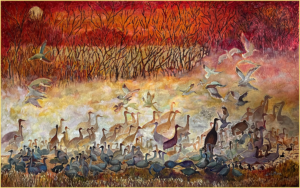 About Gilded Oils and Encaustic
Since ancient times, artists and artisans have turned to gold leaf as a way to make their creations shimmer and shine. I recently discovered and have explored how light plays with the reflections and seemingly dances across the image.
The word encaustic originates from Ancient Greek: ἐγκαυστικός, which means "burning in", from ἐν en, "in" and καίειν kaiein, "to burn", and this element of heat is necessary for a painting to be called encaustic. Encaustice or Encaustike (ἐγκαυστική) was the art of painting by burning in the colours.

This is a preview of an upcoming solo show of Linda Marie's beginning April 1st, 2023, at La Galeria @ The Shaffer in Mountainair, NM.
Visit Us Today @ La Galeria at The Shaffer
103 West Main Street Mountainair, NM 87036
(505)847-1137
Hours: Friday through Tuesday, 10 am – 5 pm